Trustees
TRUSTEES
---
PETER HIBBERD
I have sailed for about 30 years starting in a vintage National 12 in and out of the harbour at Southwold as a displacement recreation from running my small village bakery nearby. In 2000 my wife and I moved to Ipswich where I joined the County youth service and became involved with a youth club at The Thomas Wolsey School for children with physical disabilities. This led to an introduction to the Woolverstone Project where I found my niche enabling and facilitating people with disabilities to sail. The Project's trustees encouraged me to become first a dinghy instructor and later a senior instructor. After a couple of years I became the site manager overseeing the two dimensions of the Project at Alton Water and the River Orwell. I am now a Trustee of the Project.
Whenever we get the chance, Steph and I take our Twister for a sail. That is still my displacement recreation.
---
ANDY BEHARRELL
I started volunteering at the Woolverstone Project in early 2013. After 20 years of teaching, I now work online in IT for a living and I have always gone along with the view of the Boomtown Rats about Monday mornings. Volunteering for the Monday Alton Water sessions has completely changed that view and I now start my week in the best possible way!
I was brought up sailing on the East Coast and so, having moved back here a few years ago, it has felt like coming home from a sailing point of view. I have sailed for nearly 50 years and in that time have been ocean racing, dinghy racing and also spent a good deal of time cruising on various boats in various states of repair.
Volunteering for the project has been a pleasure from a social as well as sailing point of view and I hope that, as a trustee, I can help support the work of the project further.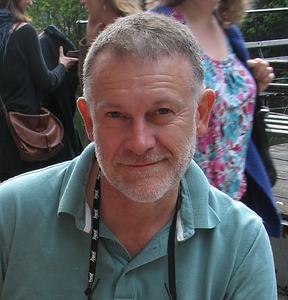 ---
BRAM VAN DER HAVE
My formal education was a BSc Hons in agriculture and my main work was in the line of business management in an international agricultural plant breeding and seeds business.
I have sailed for over 50 years initially dinghies in the Netherlands and now a cruiser named Athena on the East Coast and further afield.
I have been a member of the RHYC since 1999 and served on its General Committee and 5 years as Club Treasurer.
In my present position as Club President I represent the RHYC, which is one of the founders of the Woolverstone Project, on the board of Trustees of the Project.
---
JOHN CLEMENTS
I have always lived in Suffolk. I learnt to sail with my elder brother on the Orwell and with the Sea Scouts at Waldringfield. Over the years I have owned various dinghies then progressed to a 27 foot yacht. Following the sale of that with friends I chartered boats in in the Mediterranean & Holland and have also sailed around other parts of the UK & Eire. I first came to the Woolverstone Project as a volunteer from Rotary in 2012. There are many Rotarians among the volunteers and there is a great spirit of camaraderie between sailors & volunteers.
---
JOHN WILKINSON
I became involved with the Woolverstone Project via a Rotary Dinner at RHYC in 2007,when Geoff Holt MBE was speaking about being the first disabled person to sail single handed around GB. He happened to be sitting next to Jonty Dickinson,Chairman of Trustees of the Project, and being a sailor was immediately recruited as a volunteer. I have since been actively involved in promoting the Project through Rotary and have led the Finance and Funding requirements, which has seen a 50% increase in participation of disabled sailors. I was Chairman of Trustees from 2016 to 2018 and during this time saw an increase in the fleet of boats including the purchase of the "Wheelyboat", giving easy access to the water for those confined to wheelchairs.
---
DOROTHY STEEDS
My initial introduction to the Woolverstone Project was when my son and I dropped by one evening to see what it had to offer. Ten minutes later he was out on the water and he's been a sailor there ever since. That was about fifteen years ago and, over the years, we've spent many happy hours at Alton Water.
Although I'm not a sailor, yet, I can clearly see the benefits and enjoyment that sailing provides to so many people. Last year I became a Monday morning volunteer, subsequently being invited to become a trustee. My background is teaching, both primary and adult education, and for many years I was a Governor at Thomas Wolsey Special School in Ipswich. I bring my experience in the sphere of disability to the project.
Last updated 08:05 on 5 May 2021